Click on the images below to view some of our products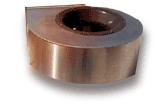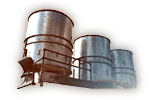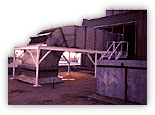 PRODUCTS & SERVICES
DESIGN. FABRICATION. INSTALLATION
Design
On-sight design consultation.
Design from verbal descriptions & specifications.
Reworking of existing drawings, products, equipment and systems.
New project & product development.
Computer 3D Modeling.
Pattern Unfolding.
Integration with computer aided machinery.
Custom Solutions to your specific issues.
Timely Inquiry Response.
Fabrication
Material Experience
All Common Carbon Steels.
Stainless Steel.
Titanium.
Aluminum.
High Tech Alloys.
Fiberglass.
PVC.
Product Experience
Our custom products have been shipped the world over. Whether simple or complex, our decades of experience are at your service.
Experience
Metal Engineering expertly installs what it makes and has done so for over 26 years. Let Metal Engineering be your single source for your fabrication and instllation needs.
Quality & Service Experience
Metal Engineering has extensive experience with customers whose applications are subjected to a highly corrosive environment. Our products withstand the test of time and the most demanding corrosive conditions.
Metal Engineering's systematic quality control and product inspections insure that our products meet our customers' most stringent requirements for fit and finish.
Metal Engineering possesses a unique edge over our competition because we are sensitive to each of our customer's budget and time constraints. Our customers appreciate our capacity to accommodate their delivery requests especially when their production schedules are at issue.
Industry Experience
Film Processing.
Chemical.
Food & Beverage Processing.
Pharmaceutical.
Hospitals.
Federal, State & Local principalities city county or Government.
Printing.
Specialty: Art, High-End Kitchen, Furniture, Interior & Exterior Design,
Weather Art, Etc.
Utility Companies.
Pet food.
Candy & Confection.
Cosmetics.
Amusement Parks.